#AnugaFoodTec
Goodbye Cologne
After four days of hustle and bustle, Anuga FoodTec is coming to an end – time to look back on the last day. The whole Krones team was happy to finally meet customers and suppliers in person and wishes all visitors a safe trip back home. A detailed report will be online on Krones magazine on Monday.
QR code makes all important data and documents immediately available on your cell phone
Evoguard is going digital – making it much easier for you to maintain and service your pumps and valves. Flipping through folders and searching through printed documentation will be a thing of the past. Instead, all you need is your smartphone. Because in the future, every Evoguard component will come with an individual QR code which will take you to a website containing all the technical data for just that pump or valve. At a glance, you will find the serial number, a technical product specification, and information on all spare parts (even including quantity and material numbers for reordering), as well as additional documents such as the operating instructions or drawings. And with just a few clicks, you can either share the information with your colleagues or connect directly to Evoguard Customer Service if you have further questions about your component. At Anuga FoodTec, Krones' subsidiary Evoguard will be presenting the QR code function for the first time. This is then expected to be in use from summer 2022: Then all newly delivered pumps and valves will automatically receive a QR code on their nameplate.
Third day of Anuga FoodTec in a photo gallery
The Krones stand was well visited also on the third day of the trade show – no wonder, since topics like plant-based drinks or exhibits like the cooling-tower VapoChill, the heat exchanger modules Evotube or pumps from Evoguard dragged many visitors on the booth. And of course, they also took the opportunity for an intensive exchange with the team from Krones and its subsidiaries – finally live and in person again.
Impressions from the seconds day of the trade show
Wow, time really flies: Day 2 of Anuga FoodTec is in the books – and so is half of the show. Once again, many interested visitors came to the Krones stand today. We have compiled the best impressions for you here.
This was day 1 of Anuga FoodTec
Finally, the hustle and bustle of a trade show is back again – this is the conclusion drawn by all the visitors as well as the whole Krones team in Cologne. In the photo gallery, we have compiled the best impressions of the first day of the trade fair for you.
Board member Thomas Ricker about our highlight topic: plant-based drinks
"Our main topic of this years' Anuga FoodTec are plant-based drinks. On the one hand this product category has a huge market potential for the future. On the other hand it is a very promising answer to the challenging question about how to feed the world's population in the future", is the clear statement of Thomas Ricker, Krones' Chief Sales Officer. If you want to hear more about it, simply start the video above.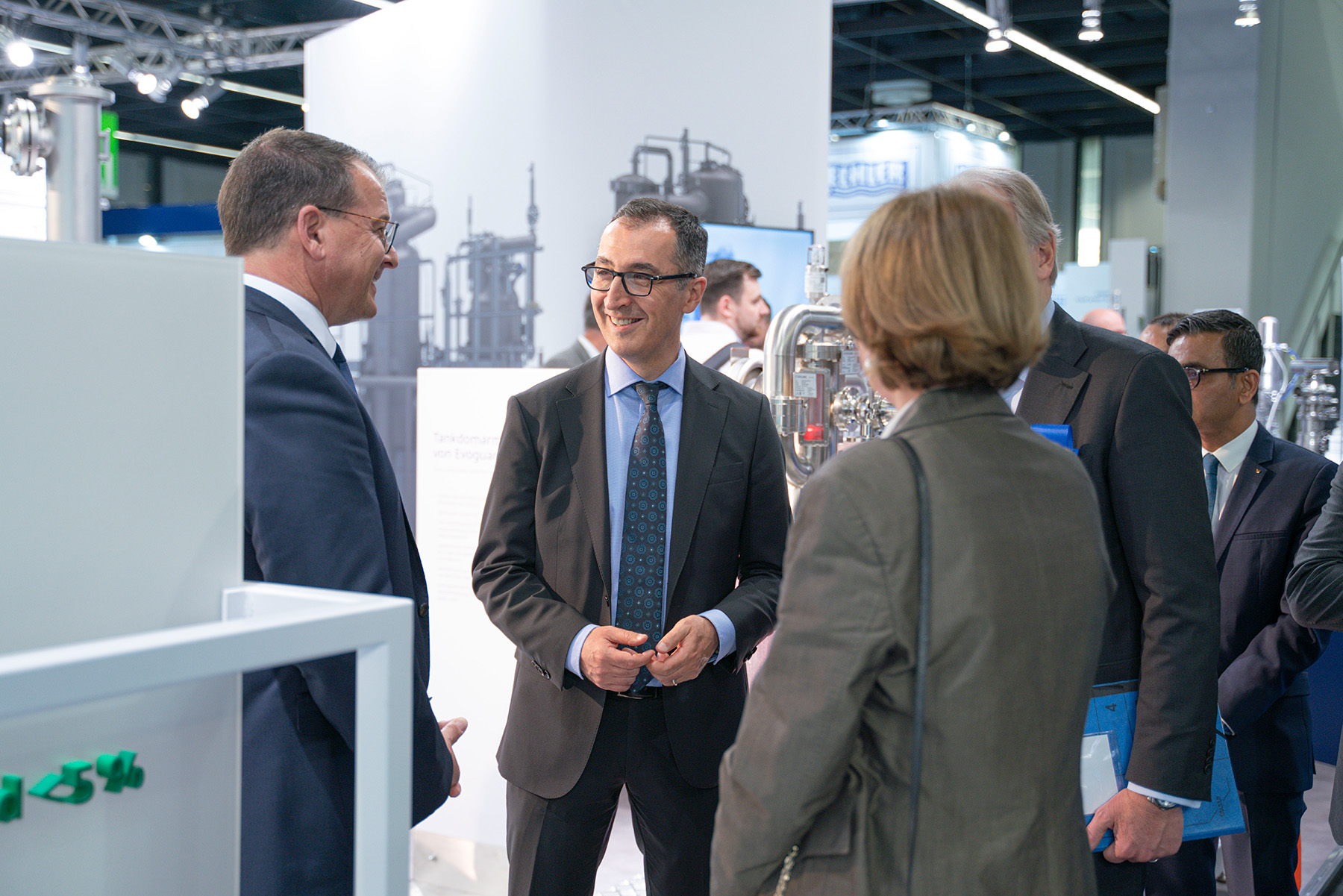 Federal Minister Cem Özdemir visits the Krones stand
Cem Özdemir, member of the Green Party and German Federal Minister of Food and Agriculture, opened this year's Anuga FoodTec in Cologne. On his subsequent tour of the fair, he also paid a brief visit to the Krones stand. There he met, among others, with Thomas Ricker, Executive Vice President Sales, Bottling and Packaging Technology. He gave him a short overview of the Krones Group and, of course, presented him with our trade fair highlights, first and foremost the trending product category of plant-based drinks, i.e. vegan milk alternatives.
It's good to be back: First trade show in Germany after the pandemic-related break
It's been more than two years since Krones was last represented at a trade fair in Germany. Anuga FoodTec in Cologne now marks the beginning of the big 2022 trade fair year – and the entire Krones Group is excited that it's finally starting again! From today until this Friday, you'll find Krones and its subsidiaries Milkron, Steinecker, Evoguard and HST at booth number A-101-D-108, in Hall 5.1, where everything revolves around "Food Processing: Beverage and Dairy Technology". If you still need a last-minute ticket for the trade show, please feel free to contact us via the contact form. But don't worry if you don't have a chance to stop by the booth yourself: Because we can easily bring our Anuga topics to your home. All you have to do is follow Krones' social media channels: On LinkedIn, Instagram, and also TikTok, you'll get live insights from the booth all week long. And here on Krones magazine, we collect all highlights from our social media channels and provide you with exciting background stories about our technology innvations.